Explore the Beauty of 1930s Fashion
---
Some links from this site lead to third parties who pay us a commission if you buy something.  This allows us to keep providing the information on this site free of charge! 
---
In the 1930s fashion was a rather more sober affair than it had been in the roaring twenties.  The hedonism and wild partying had given way to the Depression years after the Wall Street Crash in 1929, and life became rather more serious.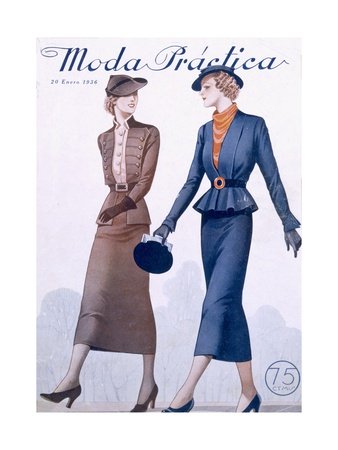 Cover of Moda Practica Magazine 1936.
However, that didn't mean that interest in fashion disappeared in the 1930s.  In many ways, it became more important for women to make an effort to feel beautiful to counteract the difficulties of their everyday lives. 
But rather than frivolous flapper dresses, women, who were now an important part of the workforce, wanted to be taken seriously.

Tailoring Came Back into Fashion

Tailoring was back, with well-fitting, well-cut suits and dresses.  Day wear was very distinct now from evening wear. Women always looked smart on the street and hats were always worn. 
Coats and jackets were tailored and most often of wool.  1930s dress design was curvier, more feminine than before and always smart.
Check out our 1930 Dress page for more fabulous fashion images.

1930s Hair and Hats

Hair styles become less severe and softer, and hats were smaller and worn at a jaunty angle.  Fox furs were common in the 1930s to add a touch of glamour or a little feather in the hat brim for decoration.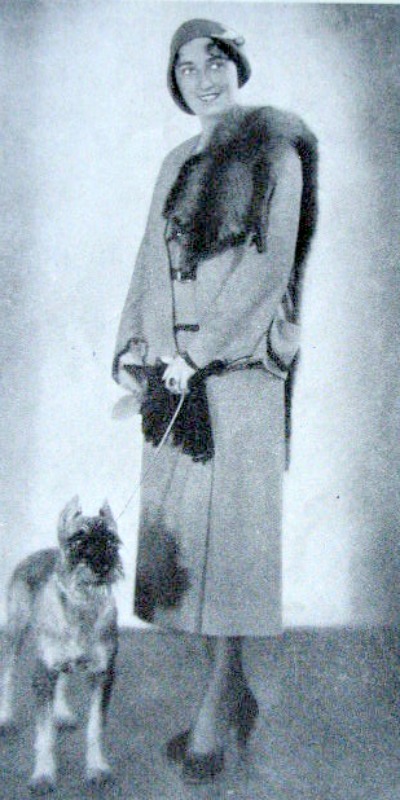 Photo from Hutchinson's Dog Encyclopedia, c.1935

Hollywood Screen Goddesses
Hollywood was a big influence though.  It was a means of escape from the pressures of life to go to the pictures and see the screen goddesses in their gorgeous dresses. 
Man made fibres such as rayon meant that even though silk was now far too expensive for most, it was possible for women to have lovely dresses and elegant lingerie, though they often made them themselves.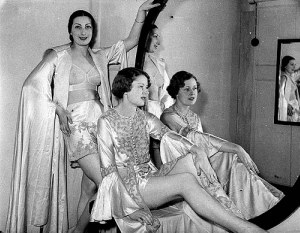 1936 Lingerie from NSW State Library
Movie stars and celebrities also had a great influence on women's choices of wedding dresses.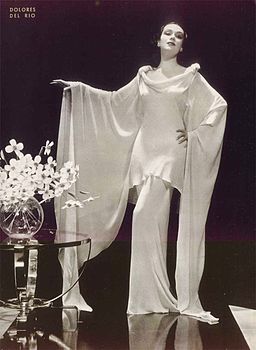 Hollywood Inspired the Wedding Dresses of the Time

1930s Fashion Catalogues
Clothes were also now available in ready to wear through the department stores and lots of women would have chosen their wardrobes from a catalogue such as the gorgeous ones from Sears pictured in this book.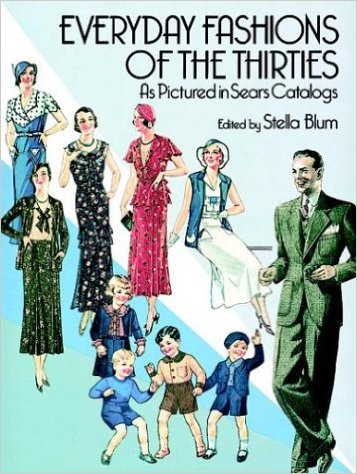 Click to Buy Now from Amazon
For more Art Deco and 1930s fashion books, and for UK and Australian buyers, click here.
Dress patterns were cheap, and every woman would know how to sew.  Zippers were now readily available and made clothes much more practical, and the new nylons made stockings so much more attractive and sleek. 
Check out gorgeous original 1930s Dress Patterns here. 


Trousers Needed for Sports and Travel!

Of course, women wore trousers now, particularly for travel and sport, (an innovation begun by Coco Chanel in the 1920s) but these still showed off the curves and blouses were tucked in to show off the waist.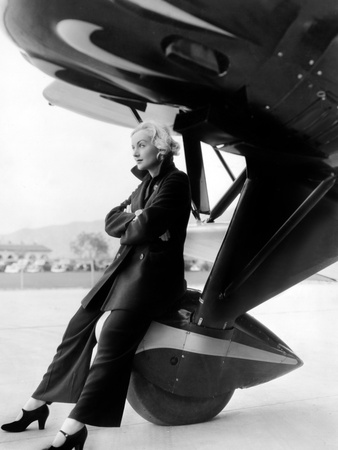 Carole Lombard Wearing Trousers.
The jumper came into popular wear for women, with fair-isle patterns and the twin set worn with skirts or trousers.
The craze for fitness and health continued into the 1930s.  Afterall, exercise and the beach were free, and bathing costumes became ever more revealing and glamorous.
Check out our Bathing Beauties page for more swimwear images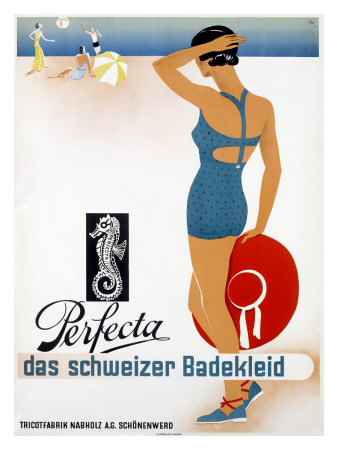 Perfecta 1930s Swimwear Advertisement
Nowadays there are still lots of 1930s clothes around.  People took care of their clothes and made them to last in those days.  So its possible to buy original 1930s garments at very reasonable prices.
Learn more about Art Deco Fashion of the 1920 and 30s
Not Forgetting 1930s Fashion for Men!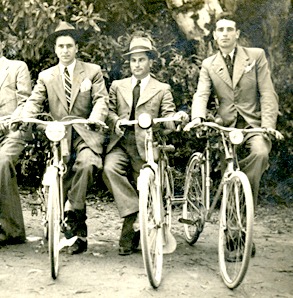 Men always wore suits and hats outside the house. Remember the old grandad shirts with no collars?  I used to love to wear a vintage one of those with jeans when I was a teenager. 
Well those were worn with the stiff collars which were kept in those lovely leather collar boxes.  And there weren't usually buttons on the cuffs, so men would have cufflinks. It was a tough time, and so people made an extra effort to look respectable, even if they were struggling financially. 

Etsy has a surprisingly good range of Art Deco furniture, interior decor, art and prints, 1920s and 1930s fashion, accessories, jewellery and Bakelite.  Click the banner to explore.  
---
---
Join our Facebook Page so you never miss a thing!


Like this Page