Old Fashioned Bathing Suits from the Art Deco Era

---
Some links from this site lead to third parties who pay us a commission if you buy something.  This allows us to keep providing the information on this site free of charge! 
---
Do you love the old fashioned bathing suits, that somehow seem much more glamorous than the skimpy lycra we get nowadays?
Wouldn't you like to be just like the bathing beauties of the 1920s and 30s.  

In the 1920s and 1930s - the Art Deco era, swimwear became much more daring, glamorous and sporty.  But compared to these days, retro swimsuits were much less revealing than the bikinis of today.  Materials were cotton or wool, so they wouldn't have been as comfortable as the bathing suits of today.

But in the 1930s man made fibres were starting to arrive, and so swimwear made of rayon and other easy dry fabrics started to come onto the market. 
Most vintage bathing suits of the 1920s and 30s would be one piece, with what we would call boy shaped legs.
1920s Magazine Print
Often there would be a belt, and sometimes a short frilly skirt.  The top would be fairly full too, with halter necks, or criss-cross straps at the back.

Prints of Vintage Bathing Suits

Fashion illustrators in the 1920s and 30s have never really been surpasssed, and the pochoir prints of that era were very beautiful.  Going to the beach was becoming increasingly popular and, of course, ladies in beautiful bathing suits were a desirable image for the magazines.  Here are a couple of my favourites: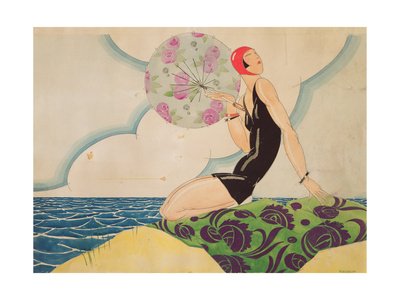 Rene Vincent - Bather 1925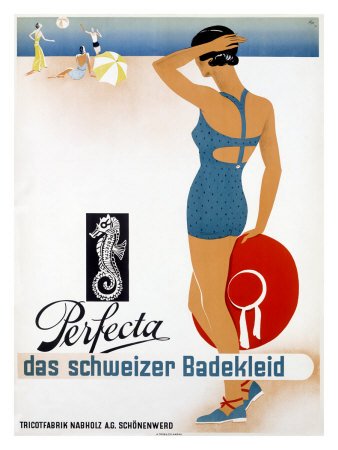 Ad for Perfecta Swimwear

Figurines of Bathing Beauties

Such was the shocking nature of some of these new swimming costumes, that little figurines were made in Germany and Japan to celebrate this new fashion.  They were made for souvenirs and to titillate and are now really collectible.  This book by Sharon Weintraub was the first written to celebrate these bathing beauties, and has lots of lovely images and information about them. 
Naughties: Nudies and Bathing Beauties - Buy Now from Amazon

Mens' Old Fashioned Bathing Suits

Men still wore full body one piece swimsuits in the 1920s and 30s, and you can still sometimes find these available to buy.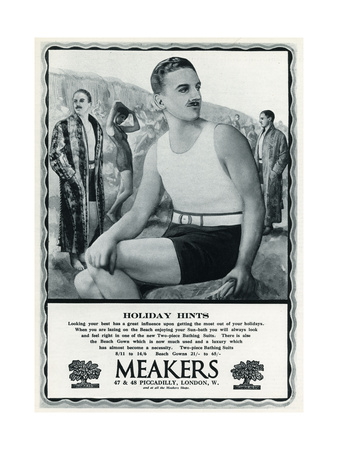 Advert for Vintage Mens' Swimwear 1927 -

How to Look After Your Old Fashioned Bathing Suits

I wouldn't necessarily recommend wearing your vintage swimsuits if you want them to last.  They were not meant to cope with chlorine and will eventually fade in the sun.  But today all kinds of vintage swimwear are collectors items. Keep them in acid free paper away from sunlight. 

Where to Buy Vintage Swimsuits

Vintage bathing suits, particularly of the 1920s and 1930s are getting rarer and more difficult to find, but it is an unusual and interesting collecting area that can be very enjoyable. 
Or if you want to wear them get one of the many wonderful reproductions of these styles available today. 
Check out what's available on Etsy by clicking the banner below. 

Etsy has a surprisingly good range of Art Deco furniture, interior decor, art and prints, 1920s and 1930s fashion, accessories, jewellery and Bakelite.  Click the banner to explore.  
---
---
Join our Facebook Page so you never miss a thing!

Decolish Home
>
Art Deco Fashion
> Old Fashioned Bathing Suits

Like this Page

Old Fashioned Bathing Suits