Xylonite - the British Celluloid
---
---
Xylonite was the name given by Daniel Spill to a plastic very similar to Celluloid which had been originally formulated in Britain by Alexander Parkes. 
In 1869 Parkes' attempts to market his Celluloid (Parkesine) failed as he was trying to keep his product priced below a shilling per pound and so his quality was not up to scratch.  His company was taken over by Daniel Spill who renamed the plastic and his company survived until 1970.  
Imitation tortoiseshell and ivory were the mainstays of the business, and by 1929 Harrods was stocking dressing table sets, combs and other products.  The name comes from the Greek "xylon" meaning wood, so perhaps some products had a finish which made them look like wood. 

During the Second World War items made at the factory included over 48 million visors for gas masks.  By 1939 the company had become Bakelite Xylonite after a merger with American company Union Carbide Corporation, and had 12 factories.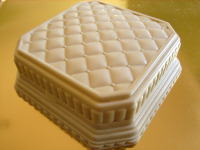 The Battle for the Legal Rights

Daniel Spill sadly spent the last years of his life in a long legal battle in the United States with the Celluloid Corporation for infringement of his patents.  He won the battle, but then the decision was overturned.  He came back to England only to die of diabetes in 1887 at the young age of 55.


Collecting Beautiful Xylonite

His plastic has stood the test of time with many dressing sets including jewellery boxes, clocks and powder boxes still found today in antique fairs and markets.  There are some wonderful ring and watch boxes with great Art Deco designs.  
You will also find all kinds of other items made from this plastic, such as glasses frames, jewelry and cutlery handles. 

This plastic is still very affordable compared to Bakelite, so it's a great one to collect if your budget is small. Watch out for condition though.  Many have scorch or burn marks which are impossible to remove. 
Read about Collecting Bakelite Jewelry here.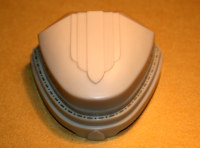 Art Deco Motif on Jewellery Box
Check out the items for sale on eBay in the USA, UK and AU.  Beware that not all sellers know the differences between different plastics, so do your own research.  There a lots of pages on this site about Bakelite and Identifying Early Plastics. 
See also Casein or Galalith - Art Deco plastic from milk
Decolish Home
>
Bakelite
> Xylonite
---

Etsy has a surprisingly good range of Art Deco furniture, interior decor, jewellery and Bakelite.  Click the banner to explore.  
---
Join our Facebook Page so you never miss a thing!

---