Casein - Art Deco Plastic from Milk
---
Some links from this site lead to third parties who pay us a commission if you buy something.  This allows us to keep providing the information on this site free of charge! 
---
Casein or Galalith was a plastic made from milk protein and formaldehyde.  Invented in Germany it was launched by The International Galalith Gesseschaft Hoff & Co. at the Paris Universal Exhibition of 1900. 

Casein plastic could not be moulded like Bakelite but had to be cut or carved from rods or sheets.  It was beautifully glossy and could be polished to a long-lasting silky lustre, but due to its tendency to warp or splinter could only be used for small pieces. 
It was used for jewellery, often in laminated layers to form cameos, but the majority of its applications were in fountain pen cases, knitting needles, buttons and buckles.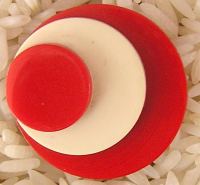 It is still used for buttons to this day. If you love buttons and buckles, click on the link at the bottom of the page which takes you to my friend Liz's site - she has a wonderful array of vintage buttons and buckles from all kinds of early plastics including some great Art Deco designs. 
Jakob Bengel and Auguste Bonaz - Designers in Casein and Galalith

Art Deco designers who used Galalith included Jakob Bengel and Auguste Bonaz.
Bearing no maker's mark, Bengel designs have only recently been identified from manufacturer's design books from Idar-Oberstein in Germany where he worked.  His pieces, like many German pieces of the time used plastic mounted on metal.  Chrome or nickel plated mesh was often enamelled and incorporated Bakelite or Galalith beads or centrepieces which were chunky and heavy. 
The German style of the time owed much to the Bauhaus machine age style which was bold and austere.
This marvellous book contains nearly all of the fabulous Bengel designs.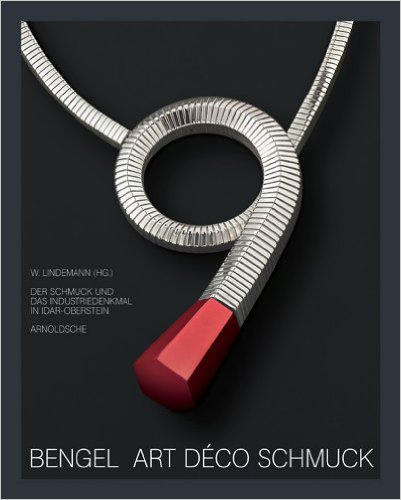 Bengel Art Deco Schmuck by W. Lindemann - Buy Now
Auguste Bonaz was a French designer based at Maison Bonaz in Paris.  He became particularly well known for his hair combs and jewellery in striking Art Deco shapes made from Celluloid and Galalith which imitated horn and tortoiseshell.
Check out the listings on Etsy!  Click on the banner below to get there.  
Check out the Button Bower for more information

Decolish Home
>
Bakelite
> Casein

Etsy has a surprisingly good range of Art Deco furniture, interior decor, art and prints, 1920s and 1930s fashion, accessories, jewellery and Bakelite.  Click the banner to explore.  
---
---
Join our Facebook Page so you never miss a thing!


Like this Page