Bakelite - the material of a thousand uses
Bakelite was the major form of "art plastic" from the 1930s through to the 1950s.

It was patented by Belgian born Leo Hendrik Baekeland in New York, in 1907, and was the first truly synthetic and thermosetting plastic.  Thermosetting meant that it could not be melted or changed by heating once formed.  Once set,this plastic was unaffected by heat, solvents or acid, and was electrically resistant and shatterproof.  Neither would it crack or discolour when exposed to sunlight. 

Promoted by Baekeland as "the material of a thousand uses", the first form was moulded, containing phenol formaldehyde, which was used for telephones, light switches, electrical insulators, car parts and many other industrial items.  But these were a drab black or brown in colour.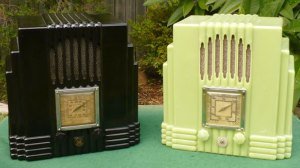 Radios Photo by Scott Beveridge (rollerboy76, Sydney)
In the 1920s a whole new range of colour was introduced and thermosetting plastics took off to invade every area of modern life.  Now cast into tubes, rods and sheets it could be made into almost anything.  Reds, greens, yellows and oranges appeared in  everyone's kitchens and around the home with dinnerware, cooking utensils, clocks, radios, telephones and toys all in bright, vibrant colours.

Jewelry, and designer objects made from Bakelite, Casein and Celluloid appeared at the 1925 Paris exhibition from which Art Deco got its name.  The motifs of Art Deco design were expressed in the new plastics among the interiors created by the best artists and designers in each country's pavilion. 

The beauty and durability of this magic plastic began to be appreciated with luxury items produced which have survived to this day.  It was even used in the fittings and furnishings of the Queen Mary and the Normandie, luxury liners crossing the Atlantic in the 1930s.

And just look at this incredibly rare Caravan!    
Rare Caravan. Photo by K.Grainger. Wikimedia Commons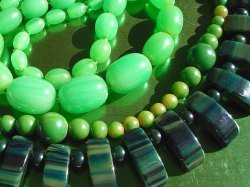 In the Roaring Twenties cast phenolics were developed which became very popular for costume jewelry, the emancipated flappers of the era enveloped in colourful beads, bangles, dress clips and earrings. 

By the 1930s a newcomer, the American Catalin Corporation of New York came up with a wide variety of new colours and shapes, and also gave its name to this form of plastic after 1927.

By this time the  "Age of Plastics" was well and truly established throughout the industrialised world.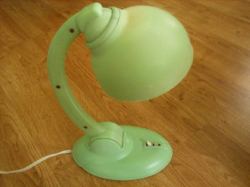 Cast phenolics were made until the end of the Second World War but after that point it became uneconomical to continue their manufacture as each piece had to be individually cast in a non-reusable mould and then carved, buffed and tumble polished. 

Nowadays vintage plastics are becoming highly collectable and some can fetch very high prices.  In 2008 a cigarette box sold for $1250, and a set of six Bakelite lamps sold for an incredible $5000 in 2006.  Rare orange coloured beads can fetch over $1000 and the holy grail of costume jewellery hunters - the Philadelphia bangle sold in 1998 at the first speciality auction of bakelite in Chicago for a record $9,350.
Here is a really useful article on how to repair chipped Bakelite.  
For more information on early plastics click on:

Xylonite - the British Celluloid
Bakelite Testing - how to identify your early plastics
Return from Bakelite to Art Deco
---
Subscribe to Decolish News!  Occasionally I will send out news on interesting Art Deco topics or let you know of a great collection or resource I've found on the web.  You can be sure I will never give your email to anyone else, and you can unsubscribe at any time. 


Decolish News
---
And join our Facebook Page so you never miss a thing!

---