Collecting Bakelite Salt and Pepper Sets

---
Some links from this site lead to third parties who pay us a commission if you buy something.  This allows us to keep providing the information on this site free of charge! 
---
Do you love Bakelite Salt and Pepper Sets?  You'll adore the ones I've found which I'm sharing with you here. 
I hope you enjoy them.  There are lots more pages of information on Bakelite and other early plastics on this site if you have a scroll around.  
I couldn't believe my luck when I found this fabulous Bakelite Cruet Set.  If it wasn't amazing enough that it still had it's little mustard spoon and was in perfect condition, it still had the ORIGINAL BOX!!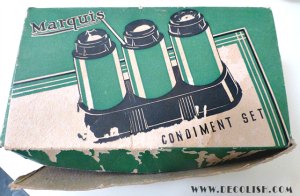 Original Box Marquis Condiment Set
How unusual is that? 
Another of my favourites is the classic atomic rocket set which I found in an antique shop in the middle of nowhere in country NSW, Australia.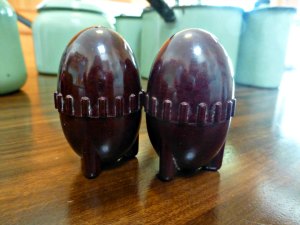 Atomic Rocket Salt and Pepper
Bakelite had it's heyday in the 1930s when the Art Deco period was at it's height.  So there are lots of wonderful geometric designs to choose.  The rocket ones are fairly obvious, but if you look closely at the cruet, you can see the typical Deco parallel lines on the base. 

Catalin - the Colourful Plastic

In 1927 a new company started called the Catalin Corporation and they introduced lots of vibrant colours including marbling and other effects.  This material was really high quality, durable and heat resistant.  The colours were fabulous.  If you can find Catalin Salt and Pepper sets they will really enhance your collection. 
Look for the half moon semi-circular ones, the squat sphere shapes or towers.  You'll also find novelty shapes like mushrooms and toadstools! 
Bakelite in the Kitchen

In the 1930s and 40s Bakelite became hugely popular for kitchen items because it was unbreakable, heat resistant, easily washable and cheap. 
Salt and Pepper sets are a great collecting area because they are still very affordable and really colourful.  They look great displayed together on a shelf. 
Obviously you'll pay more for a complete set with box as I did, but a simple set like this cream and green pair won't set you back much. 
Where to find Bakelite Salt and Pepper Sets

Of course, you will find them everywhere, in charity shops (or op shops as we call them here in Australia), in antique shops, auctions, and especially online. 

Check out the listings at Etsy.  I love shopping there.  You can get there by clicking on the banner below. 
Decolish Home
>
Bakelite
> Bakelite Salt and Pepper

Etsy has a surprisingly good range of Art Deco furniture, interior decor, art and prints, 1920s and 1930s fashion, accessories, jewellery and Bakelite.  Click the banner to explore.  
---
---
Join our Facebook Page so you never miss a thing!


Like this Page