Art Deco Jewelry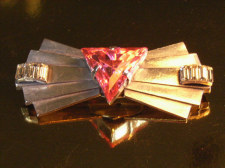 Art Deco Jewelry was either extremely expensive or unashamedly false, sometimes the two were even worn together - a fad started by the unrepentant Coco Chanel.

The flappers of the early 1920s were "young things with a splendid talent for life" (F.Scott Fitzgerald) and embraced the daring fashions of the day.  Their hems and their hair were getting shorter, their dresses were streamlined, vertical and sleeveless so they needed long earrings, and bangles they could wear all the way up the arm.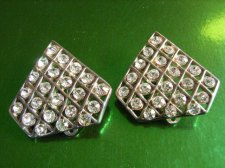 The simplicity of the dresses of the day meant they could be dressed up with long strands of beads.  Brooches and dress clips were worn on everyday clothes, not just for the evening, and they could be clipped onto hats, shoes, collars or coat lapels. Little mesh handbags, and stylish Art Deco compacts completed the look.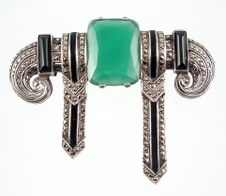 Photo by Cathy Gordon
of Theodore Fahrner Brooch, 1927

Opulence and extravagance were the order of the day and reflected the post war joie de vivre and recklessness of the jazz age. New materials such as platinum and chromium were popular with cool white, flat, geometric shapes. 

Colour was added with bright opaque stones such as onyx, jade, turquoise, coral and lapis lazuli.  Brightly coloured enamels in clashing shades adorned necklaces and earrings as well as the essential compacts and cigarette cases for the modern girls who now smoked in public! 

High end Art deco jewelry

Geometric, machine age shapes had been inspired by the Cubists, the oriental and Egyptian motifs by the craze inspired by the discovery of Tutankhamum's tomb.  Jewellery with falling vertical strands were inspired by the Art Deco motif of the fountain which appeared in many works of art, and famously in Lalique's glass fountain. 

The major jewellers of the day, among them: Boucheron, Cartier, Fouquet, Gerard Sandoz, and Van Cleef & Arpels were producing Art Deco inspired masterpieces for the very rich and fashion conscious.  Diamonds and onyx set in platinum and expensive enamels in the colours of the Ballet Russes were highly desirable and were exhibited at the 1925 Paris Exhibition where the jewellery section had an area of five hundred square metres in the Grand Palais and involved over 400 jewellers.  

Have a look at the gorgeous images of Art Deco jewelry here.

affordable art deco jewelry

After WWI, techniques were easily available for copying the opulent jewels of the rich and glamourous, and materials such as Chromium, Bakelite, Paste and Rhinestones went into mass production to satisfy the craving of every woman for fashionable jewellery.  The age of Costume Jewelry had arrived.
---
Check out my selection of Art Deco Jewelry at the
---
For more on Art Deco Jewelry click on:

Czech Art Deco Costume Jewelry
Return from Art Deco Jewelry to Art Deco

Want to make sure
you don't miss anything?
Subscribe to Decolish News, and you will be informed every time there is anything new on Decolish.  Occasionally I will send out news on interesting Art Deco topics and events or let you know of a great collection or resource I've found on the web. You can be sure I will never give your email to anyone else, and you can unsubscribe at any time.