Art Deco Furniture
Art Deco furniture was made in the period between the wars in the 1920s and 1930s.  It began in Paris in the 1920s.
Some of the most collected furniture today was made by those more traditional Art Deco interior designers, who took their inspiration from the 18th and 19th century cabinet makers  of the Faubourg Saint Antoine district of Paris, and whose elegant pieces of fine craftsmanship adorned the pavilions of the 1925 Paris "Exposition Internationale des Arts Décoratifs et Industriels Modernes" from which Art Deco got its name.
These makers include such desirable names as Jacques Emile Ruhlmann, Paul Follot and the Sue et Mare partnership.  Pieces by these designers are finding their way now into museums, and the collections of the international elite. The following print is of a gilt bronze and rosewood daybed by Ruhlmann.  It is available for purchase from Art.com if you click on the image.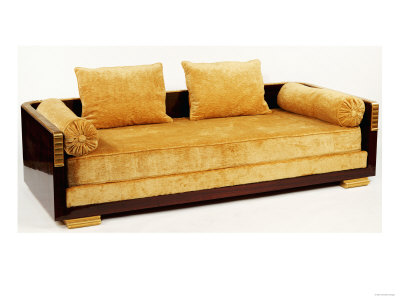 Ducharmebronz', a Rosewood and Gilt B...
Nelson And Edith Dawson
Buy From Art.com
Other collectable Paris designers in the "artiste decorateurs" tradition include:

Pierre Chareau – an architect and furniture designer with his own store – Maison de Verre

Pierre Legrain – made furniture with a strong African influence

Armand Albert Rateau – influenced by the Egyptian and the exotic and often used Bronze.
Jean Michel-Frank - loved pale woods, sharkskin, vellum and soft leather.
Eileen Gray - a reclusive Irish lady who established in Paris.  Her lacquered wood furniture and tubular pieces were sold in her own Galerie Jean Desert from 1922 – 1930.
In Britain the few designers who worked in the high end Art Deco style included:

Gordon Russell - his work blended the early Arts and Crafts movement with Art Deco influences from Paris. 

Betty Joel - her feminine Hollywood inspired pieces attracted elite clients from the British Royal family and classy hotels such as the Savoy.

Art Deco Furniture - Materials
1920s French high end Art Deco furniture was made from the most fabulous woods such as ebony and burl walnut, maple or ash. Towards the end of the 1920s ebony and other exotic woods were becoming scarce and exotic veneers from overseas such as Brazilian jacaranda, zebra wood, palmwood, and calamander.  Other veneers such as sycamore, amboyna, mahogany and violet wood were also popular. 

Inlays were of ivory, brass and mother of pearl.  Pieces were finished with shagreen, (a type of sharkskin which was ideal for dressing table or desk tops) snakeskin, oriental silks, pony skins and other animal hides such as those used by Le Corbusier in the chaise pictured below. Wrought iron and glass were just some of the other expensive materials used by such designers as Edgar Brandt and Charles Picquet for architectural elements and lighting.  

Art Deco furniture was always polished to a very high sheen which gave it it's brilliance.  Japanese lacquer was often used to achieve a very hard and shiny, tactile finish.  Eileen Gray, an Irish furniture maker who settled in Paris, went overseas especially to learn oriental lacquering and her furniture was highly sought after.  But the lacquering process involved up to 22 layers of lacquer applied in a painstaking process, which made it too expensive for most.  It was largely replaced by the 1930s by the advent of synthetic varnishes.  

Many of the Art Deco furniture makers were more than just cabinet makers.  They designed entire interiors for their wealthy clients.  Some were also architects, and built houses with the interiors already thought out and furnished. 
Art Deco furniture of this quality was not made a great deal outside Paris. Department stores such as Galeries Lafayette started to stock luxury furniture, so that it would be more widely available, but this highly opulent style didn't really take off outside France.  Exceptions to this were a few stores in Britain such as Heals of London and Gillows of Lancaster who stocked high quality imitations. 
A few British designers were influenced by high end Art Deco such as the Epstein Brothers and Ray Hille who used walnut and veneers, but it was only in the 1930s when mass production techniques and cheaper materials became available that Art Deco became a style for the middle classes instead of just the aristocracy and the fabulously wealthy.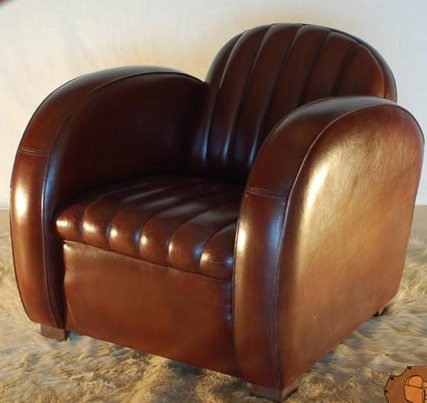 Didouner via Wikimedia Commons

By 1930 Art Deco furniture had reached the USA, and stores were filling with a more modernist style of furniture with a streamlined look.  Donald Deskey, who designed the interior of Radio City Hall, created hundreds of accessible furniture designs for department stores which made their way into the homes of ordinary people. 

Paul Frankl was making an affordable range of skyscraper  furniture in Manhattan inspired by the ever rising skyline of New York.  He catered for the new high rise apartment dwelling trend setters, and his pieces were in black and red, steel and chrome, and essentially the forerunners of clever, space-saving modular furniture.  His pieces are making a fortune these days!

Le Corbusier Chaise
In the 1930s, especially in the USA, modernism from the Bauhaus school and architects such as Le Corbusier and Mies van der Rohe took over.  There was also a strong influence from the architect Frank Lloyd Wright whose furniture as early as 1908 was highly prescient of what was to come.  Lloyd Wright's barrel chair of 1908 looks like pure Deco!

Other 1930s furniture makers in the USA included Warren McArthur and Norman Bel Geddes.

A few other countries had their Art Deco furniture designers which are now highly collectable.  Many Scandinavian designers used pale curved plywood, which was a new technique for the 1930s, and was the beginning of a uniquely Scandinavian furniture style.  In Finland, the husband and wife team Alvar Aalto and Aino Marsio are collected today for their curved and streamlined, or geometric laminated Birch furniture. 

If you would like to find out more about Art Deco furniture and its designers, I suggest you do a search for Art Deco Complete by Alastair Duncan, or Judith Miller's Art Deco. Both contain lots of fabulous photographs and information on the different national styles of Art Deco furnishings.
There has been a resurgence in the popularity of 1930s Art Deco furniture recently in Europe, the USA and Australia.  Design classics such as the Le Corbusier chaise and the Mies van de Rohe Barcelona chair are still being reproduced and even sold in miniature versions as ornaments!  I saw the Le Corbusier chaise in miniature being sold for 300 British pounds on a home décor show the other day!
Barcelona Chair by Mies van der Rohe
New Art Deco style furniture is being built now by some high quality craftsmen, with streamlined looks, dark woods and pale upholstery.  It has a feel of Hollywood glamour with shiny polished woods and curved form. 

Another trend I've noticed recently, which owes it's inspiration to Art Deco is mirrored furniture with chrome accessories. Some of it is really so over the top it's a must have item for a high bling factor!
Why not do a search on Ebay for Le Corbusier, Barcelona Chair, Art Deco chair, or whatever takes your fancy and see what comes up. 

Click on this link and buy at any time of the day or night!
If you scroll down the left hand side of the page you will see a box for "Item Location", if you click there, you can fix the number of kilometres from your postcode that you'd like to search.  Don't be afraid of looking further afield.  Sometimes delivery is not as expensive as you might imagine.  Ask if the seller does a delivery service, or do a search for couriers or removalists who might be able to bring something for you.

To find out more, why not read up on How to Buy Art Deco Furniture.

There's lots more information on Art Deco furniture in the following pages:
---
Subscribe to Decolish News!  Occasionally I will send out news on interesting Art Deco topics or let you know of a great collection or resource I've found on the web.  You can be sure I will never give your email to anyone else, and you can unsubscribe at any time. 


Decolish News
---
And join our Facebook Page so you never miss a thing!

---