Art Deco Sofa Styles
---
Some links from this site lead to third parties who pay us a commission if you buy something.  This allows us to keep providing the information on this site free of charge! 
---
The design of the Art Deco sofa varies greatly from the club lounge style, to the tubular steel or chrome frame.
Both types can add style and sophistication to your living room, but you need to decide what kind of look you are going for.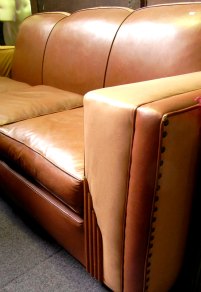 The two sofas on this page would be really comfortable, and look superb with a soft, patterned interior, with warm colours and soft lighting.  The two tone caramel shade sofa has quite a linear form, and is typical of gentleman's club type seating. 
The leather covering would be very durable, but not as soft and warm as a fabric upholstery.  Many sofas of this type are being restored and re-covered these days, so it's worth getting one updated to match your colour scheme. 
The leather sofa  pictured here was part of a three piece suite I saw in an auction house in Sydney and it was estimated at $150.  So you would have plenty in the budget left for restoration, and you could finish up with a really unique piece that none of your friends would have!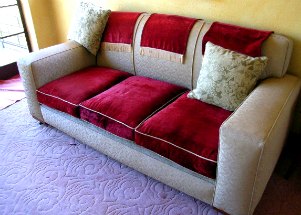 The grey and ruby red sofa is part of a suite in an Art Deco house open to the public in the Blue Mountains and is the sort which you would have seen in many a home throughout the 1930s and 1940s.

Modernist Art Deco Sofas

Art Deco sofas of the more modernist kind were first made by the Swiss architect Le Corbusier and Mies van der Rohe, whose Barcelona chair is still made today.  For images of their furniture and more ideas for your interior design, have a look at my Art Deco Furniture page.

Interestingly, these modernist designs did not come later than the high end Art Deco furniture made by such makers as Ruhlmann and Sue et Mare in Paris and who Le Corbusier described as "the antique lovers", but appeared at the 1925 "Exposition Internationale des Arts Décoratifs et Industriels Modernes".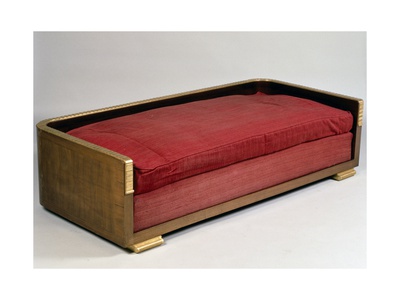 Print of Sofa by Jacques Emile Ruhlmann
The pavilion designed by Le Corbusier with his avant-garde furniture didn't attract much attention at the time, but it was the modern materials and minimalist forms which were so easily mass produced in cheaper materials after the Depression which endured and have remained popular.
Modernist tubular steel furniture was influenced by the Bauhaus designers such as Walter Gropius and Marcel Breuer and made by many Art Deco furniture designers, including Eileen Gray, Paul Frankl, Wolfgang Hoffman, Donald Deskey and others.  Lots of tubular furniture was made in the 1930s which wasn't attributed to any particular designer, but was mass produced and sold through department stores.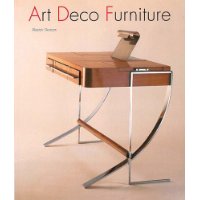 Buy Now from Amazon
Many of the designs have endured and are still reproduced to this day.  Chrome and steel framed furniture was usually covered with leather, often in black, red, or white, and sometimes with exotic animal skins.  These pieces still look fantastic in modern, minimalist interiors, which is why they are still so much in demand today.
If you are lucky, you will be able to find an amazing Art Deco sofa in your local area.
Courier costs are sometimes not as expensive as you might expect, so do some research, and it might be worth getting a sofa delivered from a distance if it is cheap enough. 

Bargains can be had, as furniture is more difficult to sell online because of transport costs. Be warned though, a lot of sellers are describing furniture which is not Art Deco as such.
Check out the Art Deco sofas on Etsy. 
For more Art Deco living room furniture, visit:
Art Deco Armchairs

Etsy has a surprisingly good range of Art Deco furniture, interior decor, art and prints, 1920s and 1930s fashion, accessories, jewellery and Bakelite.  Click the banner to explore.  
---
---
Join our Facebook Page so you never miss a thing!


Like this Page