All About Art Deco Armchairs
---
Some links from this site lead to third parties who pay us a commission if you buy something.  This allows us to keep providing the information on this site free of charge! 
---
Art Deco Armchairs are unmistakeable.  They could not be anything else!  To me they have a kind of cartoon element to them, with their two tone colours and curvy lines. 
But at the same time, they manage to evoke the masculinity of a smoke filled gentlemens' club, the sophistication of a London or New York apartment, or the glamour of a luxury hotel lobby.

Jacques Emile Ruhlmann Armchair

The armchair below, in a poster available at Art.com, is the famous Elephant armchair, designed by the best Parisian Art Deco furniture designer of the 20th century, Jacques Emile Ruhlmann.  He not only designed furniture but designed entire interiors which were commissioned by the wealthiest of clients in Paris and New York.  His furniture is now the most sought after by collectors and museums.
Ruhlmann's Elephant Armchair

An Art Deco Armchair for Every Budget

But there is an Art Deco armchair for every home and every room and every budget. 
Many survive from the 1920s and 1930s both singly and with sofas.  Often they need some restoration or re-upholstering and this is well worth doing.  The style is so popular these days that there are many companies making new chairs in the Art Deco style.  Whichever you choose, you are making a good investment in a classic armchair that will never go out of fashion. 
Balinese Art Deco Armchair
Art Deco found its way into all corners of the globe.  I saw this lovely example of an Art Deco chair in wood and blue leather in Bali recently. 
Art Deco styles go beautifully with the tropical woods found there.  Many of the tropical woods sourced by the original French Art Deco furniture makers came from Indonesia and other tropical countries. 
Oriental interiors were a huge influences on Art Deco and the same is true in reverse. Many European artists went to live in Bali during the 1930s and took some Parisian interior design ideas with them.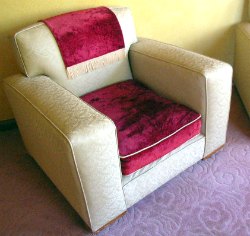 Chair at Everglades, Leura
The Art Deco armchair above, from Everglades House in Leura is very traditional looking and typical of the 1920s.  It has two main colours, grey and red and is very square. 

From the 1930s onwards lines became more curved in response to the craze for streamlining everything.  
The chair below starts to show more modern influences.  In one colour only, it has a more modernist feel to it and the ottoman or footrest is an integral part of the form and shape of the pair.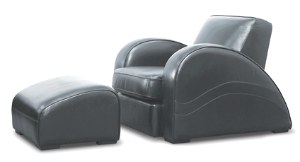 Streamlined Design Armchair and Ottoman

The image below is of an Ebene-De-Macassar, Leather and Bronze Armchair and Ottoman, Circa 1927.  Ebene de Macassar is a high quality species of Ebony from Indonesia which has black and beige veining.  It is also known as Coromandel.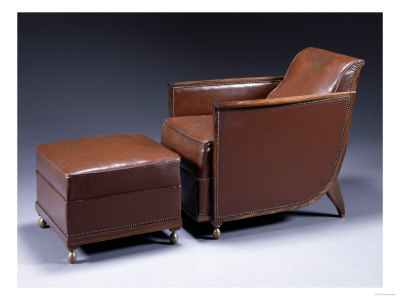 Ebene de Macassar Chair by Daum

Sourcing Your Art Deco Armchairs
Vintage Chairs
So where are you going to find your own Art Deco armchairs?  If you're like me, you like to have original pieces from the period.  There are lots of them around. 
The picture at the top of this page was taken at my local auction house not long ago.  This chair was part of a three piece suite with sofa and two armchairs.  In leather, sadly it had a cigarette burn on it, and the cushions were a bit past their best.  It would have needed some work, but it went for $150, so it would have been well worth restoring, as it was such an iconic piece of Art Deco design with the ziggurat patterns on the legs and the two tone colour scheme.
Online auctions are another great hunting ground.
One of my favourite online stores for Art Deco furniture these days is Etsy.  Click on the banner at the bottom of the page and see what they have currently. 
Don't be afraid of getting quotes for shipping.  It's sometimes very reasonable.  

Local antique shops can be more expensive but would have good quality items, and even garage or yard sales would be worth a look. 
For more tips, have a look at my guide to buying Art Deco furniture.
Restoring Old Chairs
There is a huge trend for "up-cycling" at the moment and lots of restorers are taking vintage pieces, and reinventing them.  Retro and vintage design shops and modern design warehouses in big cities will have these kinds of pieces which take a vintage piece of furniture and give it a modern twist.  It might just be a really funky fabric, or a whole new purpose for the item. 

These pieces can be very expensive, so it might be worth giving it a go restoring an old Art Deco armchair yourself, or buying one and getting a local upholstery firm to do it for you.  That way you can choose your own coverings or fabrics to suit your colour scheme. 
New Art Deco Style Chairs
Many furniture-makers are now creating new designs based on Art Deco styles.  The quality of these can be excellent, and you know that you are getting something in good condition and brand new.  Search for these online, or in large department stores. 
and

Etsy has a surprisingly good range of Art Deco furniture, interior decor, art and prints, 1920s and 1930s fashion, accessories, jewellery and Bakelite.  Click the banner to explore.  
---
---
Join our Facebook Page so you never miss a thing!


Like this Page