How to Buy Art Deco Furniture
---
Some links from this site lead to third parties who pay us a commission if you buy something.  This allows us to keep providing the information on this site free of charge! 
---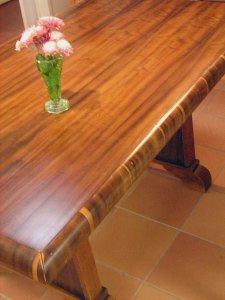 Here is my quick guide to the best ways to buy Art Deco furniture.  There are incredible bargains to be had if you know where to look.
How to Buy Art Deco Furniture
On the Internet
We bought our dining table on Ebay for only $19 a couple of years ago.  By some miracle it fitted in the back of my 4 wheel drive with one milimetre to spare so we didn't pay for transport either. 

The kitchen cabinet was also from Ebay and came home on a neighbour's trailer. Various other bits and pieces have come home from garage sales and auctions over the years.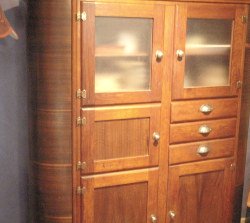 Ebay used to be a great hunting ground and you can possibly still find a bargain.  But it's not as good as it used to be.  Nowadays, I prefer Etsy.  You can check them out from the banner at the bottom of the page.   
It might be worth looking a bit further afield, if you find a good courier service and find out how much they charge. Sometimes it's not as expensive as you think.  And some of the main Art Deco furniture dealers will arrange shipping for you. 

You can also look around on the internet for antique dealers and furniture manufacturers who are advertising the type of items you'd like. Many of them will have standard shipping costs. 
How to Buy Art Deco Furniture Bargains
at Garage Sales and Charity Shops
Don't forget that many a great piece of furniture can be found at garage and yard sales, as well as charity shops.  Not all op shops (as we call them in Australia) have furniture, only the larger stores, so do a ring around before you drive too far. 
Some of the larger Sydney op shops have an amazing range of Art Deco Furniture to buy, but they are beginning to put the prices up.  Some of them are charging antique shop prices now.  So it might be a good idea to keep an eye on your local paper and trawl the garage or yard sales.  Choose areas where there are lots of older houses which are more likely to have vintage furniture.
How to Buy Art Deco Furniture
  - Collector's Pieces
For really high class pieces you might need to go to the best auction houses in major cities such as Christies or Sothebys.  But often smaller local auction houses will also have good quality Art Deco furniture to buy, and many of these now have online bidding too.  My local auction house now has online bidding, and it's great fun. But it's also very easy to get carried away. 

Make sure you have decided on your upper limit, (write it down on a piece of paper beside you), including the saleroom's commission.  Most auction houses charge between 15 – 20% these days. You can also leave absentee bids if you can't get to the sale on the day, but to be honest, you can often get a better price if you are actually at the sale.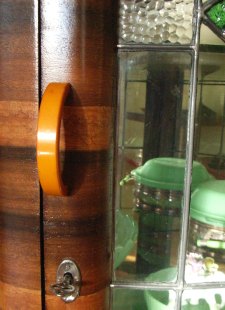 How to Buy Art Deco Furniture
at Local Auctions
I bought this lovely glass fronted cabinet with a Bakelite door handle and a mirrored back at an auction.  It fitted fine in the back of my car and I think it was a real bargain.  You don't often find these in such good condition with none of the glass panels broken.  I have been thrilled with it, and it displays lots of my Deco glass and china pieces nicely. 

You can often pick up a really pretty Art Deco dressing table, or wardrobe for a song.  So many people now have fitted wardrobes and no space for dressing tables, that they can be incredibly cheap.  I think its a great investment, and they will last for a long time and add a fabulous touch of glamour and style to your bedroom. 

Art Deco sofas or armchairs are probably more popular, so you might have to pay a bit more for one in good condition, but there are some beauties out there if you are prepared to shop around. 

You'll often find the smaller items like end tables, smoking stands, mirrors and lamps at auctions and these can be really good value. Not keen on bidding or sitting around all day?

You can start shopping now and find some amazing stuff to complete your Art Deco Interior Design. Click on the Etsy banner below. 

Etsy has a surprisingly good range of Art Deco furniture, interior decor, art and prints, 1920s and 1930s fashion, accessories, jewellery and Bakelite.  Click the banner to explore.  
---
---
Join our Facebook Page so you never miss a thing!


Like this Page