Art Deco Office Furniture
---
Some links from this site lead to third parties who pay us a commission if you buy something.  This allows us to keep providing the information on this site free of charge! 
---
Art Deco office furniture was made in the 1920s and 1930s but has never really gone out of fashion.  Designs from the period have continued in production to the present day. 

Art Deco describes quite a wide range of styles which were developed during the roaring twenties and streamlining mad thirties.  There are two main threads which had an effect on the design of office furniture from the period. 
"High-End" Art Deco

So called "high-end" Art Deco refers to the quality, cabinet-makers furniture which was made in Paris from the early part of the 20th Century.  The characteristics which define the style, as opposed to the traditional cabinet makers wares of the 18th and 19th century from which they sprang, were a more modern form, with clean lines and much less fussy decoration.  The decorative elements of this type of furniture were derived from the use of exotic woods, particularly ebony, with geometric inlays of expensive ivory, brass or mother of pearl.  Other high quality materials were used for desk tops such as leather or shagreen (a type of shark skin). 

Designers who made Art Deco office furniture, desks or bureaux, included Jacques Emile Ruhlmann, the father of Art Deco furniture and probably the most famous and collected of the period.  He designed  entire interiors for wealthy clients. 
Ruhlmann Bureau-Salon 1929.
The following print is of a Ruhlmann desk and is typical of the austere form and high quality of the period.  It was called the 'Hotel du Collectionneur' model.  Other makers who produced this type of high-end furniture were Jean Michel-Frank, Armand-Albert Rateau and the partnership Sue et Mare, all artistes décorateurs active in Paris during the 1920s.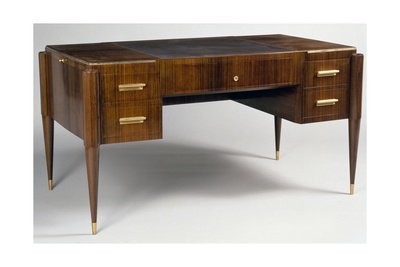 These all round interior designers were often architects or artists, or even in the case of Paul Poiret, a fashion designer, who turned their hand to designing whole interiors, including the furniture, textiles, lamps, carpets, wallpapers, and soft furnishings.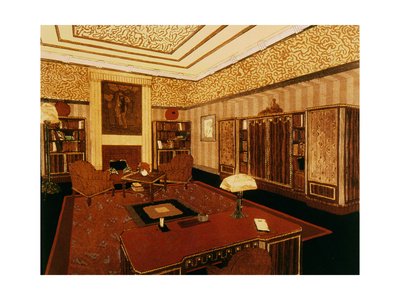 A 1924 Art Deco Office by Paul Follot - Buy Print
Modernist, Streamlined Art Deco Office Furniture

The second main style of Art Deco office furniture was the more modernist, streamlined style which became popular in the 1930s.

This style had its origins in the 1920s when architects such as Le Corbusier began experimenting with tubular steel framed furniture.  His chairs and chaise are still made today, and have become style icons. 

For the office, this style is chic, functional and hard-wearing.

Desks tend to be single pedestal, which means that they are asymmetrical, have one side with a column of drawers and on the other just narrow legs for support.
This style of desk was made in exotic woods, black or pale veneers, or both together for contrast. Combinations of materials, such as wood and steel were also common.  
Tubular steel or chrome with bold colours were popular, often black veneer or lacquered finishes (synthetic varnish for mass produced pieces). Red or white, or mirrored finishes were also possible.  As well as the linear rectangular tops, you might find a curved, more  streamlining inspired kidney shaped desk top.
The Pierre Chareau office module above shows how form became more adventurous and geometric. Many designers created modern Art Deco office furniture in this style. 
Paul Frankl's skyscraper furniture was a great inspiration for many designs which were later mass produced in factories all over the world.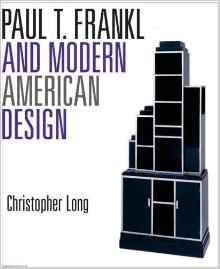 Click to Order Book
Many of the designs from this period are still manufactured today and are still as relevant to a modern interior as they were in the 1920s and 1930s.
For more Art Deco office furniture, have a look at:

Etsy has a surprisingly good range of Art Deco furniture, interior decor, art and prints, 1920s and 1930s fashion, accessories, jewellery and Bakelite.  Click the banner to explore.  
---
---
Join our Facebook Page so you never miss a thing!


Like this Page

Art Deco Office Furniture