Bakelite Jewelry
My Bakelite jewelry display at Mittagong Antiques Centre

What is it that is so wonderful about Bakelite jewelry?

I asked myself this question when I was recently interviewed for the local rag and they asked me this question. I came out with a
rather silly answer - "It's almost good enough to eat!"  Since then, I realised that this kneejerk response was possibly not so stupid. Caramel, butterscotch, applejuice, cherry amber, root beer, mustard - these are just some of the edible words I've seen to describe Bakelite jewelry, and some of my beads really do look and feel like toffee or caramel sweets. 

I was never that much into jewelry until I met Bakelite. Who would have thought that mere plastic would hold so much more fascination for me than gold or diamonds? 

Maybe its the colours - earthy colours like burgundy, lilac, emerald green, tortoiseshell and all shades of honey and amber, or brighter shades for summer like red, orange, brilliant yellow and grass green.  Not to mention all the marbled, swirly mixtures of colours, or the transparent pieces with reverse carving and painted flowers, fish, animals and other fanciful designs that inhabit the world of Bakelite jewelry. 
Or perhaps its just the beauty of Bakelite, its history, its connection with that lively, elegant and sophisticated period we call Art Deco.
There are lots of pages here for you to learn about the different types, or read to the bottom of the page for more general information. 

| | | |
| --- | --- | --- |
| | | More on rings coming soon! |
The great thing is that there is a piece for every occasion.  For frivolous occasions you can wear a brooch with cherries on it, or even a pin with a set of tools dangling.  There are necklaces with a whole fruit salad dancing on a Celluloid chain. 
If you want to be elegant, an Egyptian style collar or geometric shaped necklace will bring a touch of sophistication to any outfit.  An arm full of bangles is great fun, or a big colourful ring will get you noticed when you hand over a ticket to the theatre.  Whether you like to be different and make a statement, or just like to wear a gorgeous coloured bead necklace to blend in with your outfit, there is something for everyone. Have you got a really cool look when you wear your collection?  Tell us about your favourite jewelry buys here.

Costume Jewelry
Bakelite really came of age as a material for jewelry when it was introduced in the 1920s by such prominent designers as Coco Chanel and Elsa Schiaparelli and frequently appeared in the pages of Vogue. 

Mind you, pieces by such designers weren't cheap, though they were among the first examples of "costume jewellery".  But the use of cheap materials by great designers gave plastics a respectability that meant that everyone wanted to wear them.  By the beginning of the 1930s bakelite jewelry was being mass produced and worn by everyone.  Costume jewellery sets were very popular with matching necklaces, earrings, bracelets and rings being bought together. 
Dress clips, bangles, brooches and pins were also worn by women of all ages.  Hair ornaments finished off the effect and all these gorgeous accessories could also be stored in a wide range of jewellery boxes. 

In 1927 the Catalin Corporation was founded and introduced 15 new colours.  In fact up to 70% of so-called Bakelite jewelry around today is actually Catalin and they were especially famous for their Art Deco style radios too.   Another cute colourful collectable which Bakelite jewelry lovers adore is the Bakelite crib toy. 

Many other companies got in on the act and plastic jewelry took off around the world.  America is, of course, the home of Bakelite, being invented in New York by Belgian chemist Leo Baekeland and the majority of collectable Bakelite jewelry these days comes from the USA.  American plastic jewellery was playful and colourful, with bright and jazzy bangles with polka dots of laminated stripes, clips and pins, often with cute animals, birds or flowers.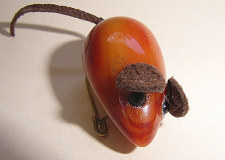 Bakelite was developing in Europe throughout the 1920s and the European style of plastic jewellery was more subdued and based on design.   Plastic jewellery was displayed at the Paris 1925 exhibition in the designer interiors of Paul Poiret alongside the glass of Lalique and the silver of Puiforçat.  The French produced discreet, elegant designs and utilised the geometric Art Deco motifs of Egyptian, African and Aztec origin.  While the German designers were influenced by the austere Bauhaus aesthetic.   European pieces often used a combination of materials and mixed Bakelite with wood or metal, creating articulated hinged bracelets of Bakelite and brass evoking the grills of their beloved new streamlined motor cars and radios.  
Collectables
Today the most collectable (and expensive pieces) are the large carved bangles, some of the rarer geometric metal and bakelite bracelets, some of the more unusual colours such as orange and blue and anything signed or rare.  Beautiful jewellery was also made in Casein, an early plastic otherwise known as Galalith.  This was used especially in France by fabulous Art Deco designers such as Jacob Bengel and Auguste Bonaz who made the most gorgeous hair ornaments.  Celluloid was also used widely for jewellery, and although older than Bakelite, it is often cheaper, so a good start for an early plastic jewelry collection.  And don't forget Xylonite which was used extensively in England and the USA for ring boxes and dressing table sets. And if you love dogs, check out vintage plastic Scottie Dog Jewelry here.
Return from Bakelite Jewelry to Decolish Home Page


Want to make sure
you don't miss anything?
Subscribe to Decolish News, and you will be informed every time there is anything new on Decolish.  Occasionally I will send out news on interesting Art Deco topics and events or let you know of a great collection or resource I've found on the web. You can be sure I will never give your email to anyone else, and you can unsubscribe at any time.