Art Deco Bedroom Furniture
---
Some links from this site lead to third parties who pay us a commission if you buy something.  This allows us to keep providing the information on this site free of charge! 
---
Style your boudoir with decadent Art Deco Bedroom Furniture.  This page should give you some design inspiration!
No Deco Bedroom is Complete without a Pekinese

High Quality Furniture

Art Deco bedroom furniture started in 1920s Paris with extremely high quality cabinet makers' pieces like this amazing bed with a dramatic circular sunburst headboard by Jacques Emile Ruhlmann. It was called the 'Lit Soleil' literally 'Bed Sun'.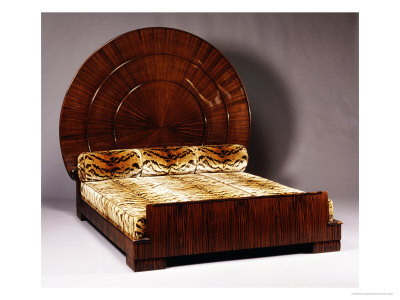 Ruhlmann's Lit Soleil
Art Deco beds were normally made with head and foot boards of highly decorative woods such as maple, ash, or  walnut.  There would often be an inlaid border in a contrasting colour, made of ivory, ebony or brass.
Ruhlmann and others not only designed furniture, but the entire interior.  There are several famous bedrooms designed by Ruhlmann and other interior decorators of the period, such as Armand Albert Rateau. 
One bedroom suite created for Jeanne Lanvin by Armand Albert Rateau is so highly rated, it has been reconstructed in the Musée des Arts Décoratifs.  You can see an image of that one on my Art Deco interior design page.
Here are a couple of bedroom designs, which are so fabulous, they have been made into prints.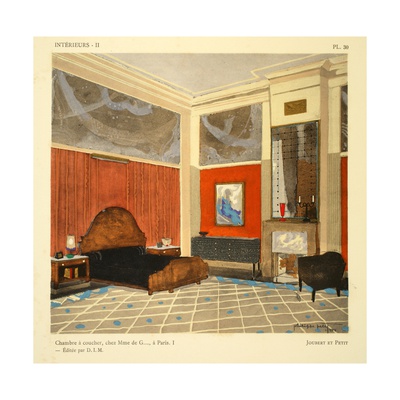 Click to read about the designers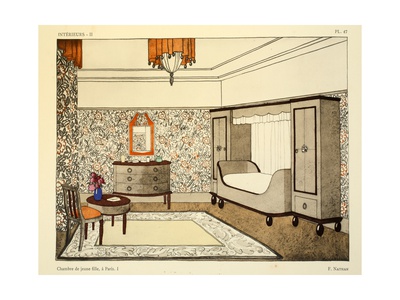 Young Girl's Bedroom by F. Nathan. View Full Size Print
As you can see from these two bedrooms, fitted carpets gave a sense of comfort and luxury.  These were either plain, or might have a geometric pattern.  Often exotic rugs were used to give a sense of opulence.  Some were even animal skins, such as zebra or pony. 
There was a careful use of pattern, either in the wallpaper or the curtains. 
The furniture was a combination of gorgeous pale or dark wood with a contrasting upholstery.  Dressing tables tended to be geometric in shape and had highly polished surfaces.  The room was finished with a careful use of lighting, often with a combination of wall sconces and standard lamps. 
How to Find Art Deco Bedroom Furniture

It's easy to find great pieces in auction houses and antique shops these days, as so many people are having built in wardrobes and don't have room for it. 

There's also a resurgence in Art Deco style in new furniture, particularly pieces such as mirrored dressing tables. 

Upcycling is the latest thing too, which is a new word for recycling or reinventing old furniture in ways which makes it modern and stylish. 
Lots of Art Deco bedroom furniture is being painted or resurfaced.  You could have a go yourself and create an artistic and unique item which everyone will admire.  Start off by finding a fairly cheap wardrobe or dressing table from a charity shop or garage sale.

See also my page on:

Etsy has a surprisingly good range of Art Deco furniture, interior decor, art and prints, 1920s and 1930s fashion, accessories, jewellery and Bakelite.  Click the banner to explore.  
---
---
Join our Facebook Page so you never miss a thing!


Like this Page

Art Deco Bedroom Furniture