What's New on Decolish?
If you're a regular visitor to Decolish, and want to see what's been most recently added here is a good place to start......
We've just added a search page too, which means you can search all the pages of Decolish really quickly if you're looking for something in particular, or can't remember where you saw something.
Lea Stein Jewellery - Does Anyone Wear It?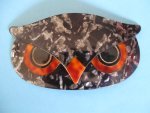 Is it for wearing or collecting? All about Lea Stein Jewellery and the history of this fascinating designer.
Continue reading "Lea Stein Jewellery - Does Anyone Wear It? "
---
Click here for Art Deco Calendars 2017

Decolish News
Subscribe to Decolish News!  Occasionally I will send out news on interesting Art Deco topics, special offers or let you know of a great collection or resource I've found on the web.  You can be sure I will never give your email to anyone else, and you can unsubscribe at any time. 

---
And join our Facebook Page so you never miss a thing!

---