1920s - A Fashion Inheritance
by Maree
(Temora NSW)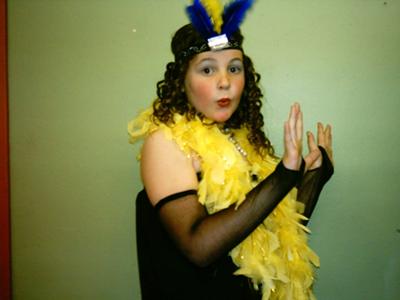 I first became interested in 1920s fashion when I was at high school. All the other girls were developing interesting curves and I wasn't. I have heard my then-figure type recently described as 'column'. Back then, it was less flatteringly referred to as 'beanpole'. My mother told me my figure would have been considered perfect in the 1920s and gave me the 'Vogue' picture book of covers 1909- 1940 and thus began a lifetime fascination...
Recently I discovered a detective series, featuring an incredibly stylish heroine, set in the late 1920s. They are by Kerry Greenwood. The edition that I collect features covers based on the illustrations in my Vogue picturebook.
The photo of the Bushells girl is taken from a treasured poster and is my avatar on the ebay chatboards and represents 'me'. Ironically, curves have caught up with me since my high school days. My daughter tactfully refers to me as 'an ex-column' and most of my vintage clothing is now 1950s, as it fits better. I have an abiding love for 1920s jewellery, however, and have featured some of my collection in one of the photographs.
I have passed on my love of the 1920s to my daughter - the photograph shows her dressed up for a school performance.
I can only apologise for the quality of the jewellery photos. I had lots of attempts to get a best shot! If anyone wants to look at a particular piece of jewellery, I will have another go.

Etsy has a surprisingly good range of Art Deco furniture, interior decor, art and prints, 1920s and 1930s fashion, accessories, jewellery and Bakelite.  Click the banner to explore.  
---
---
Join our Facebook Page so you never miss a thing!


Like this Page