Empire State Building
An Art Deco Icon
---
Some links from this site lead to third parties who pay us a commission if you buy something.  This allows us to keep providing the information on this site free of charge! 
---
The Empire State building has inspired architects, artists, photographers and designers the world over and is one of the most enduring Art Deco icons of the age.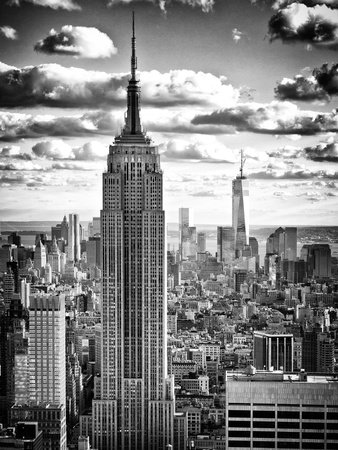 NY CityScape by Philippe Hugonnard
I find it hard to believe that I have actually been to the top of this building - me, who is scared of heights!  It was in 1991 so perhaps I wasn't so scared when I was younger. 

The Empire State Building as Movie Star!

New York's most famous building starred in the 1933 movie in which King Kong was shot down by aeroplanes from the top floor and in 1945 lived its own real life drama when a US B-23 bomber crashed into the 72nd floor causing extensive damage.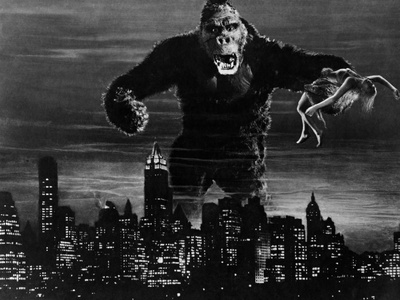 King Kong 1933
The tallest building in the world from 1932 - 1971, its stepped design became one of the motifs of Art Deco design.  Although said to derive from Egyptian and Aztec architectural elements, New York skyscrapers were required by law to have the set back shape on their upper floors in order to let in light below.  
1931 Print
Designed by architects Shreve, Lamb and Harmon, its 102 storeys rose a staggering 1,250 feet in the air. 
It broke records for its speed of construction with over 4 floors being added per week!  However, this took its toll, as the workers fabricating the steel structure of the building had no safety equipment and a tragic 14 lives were lost.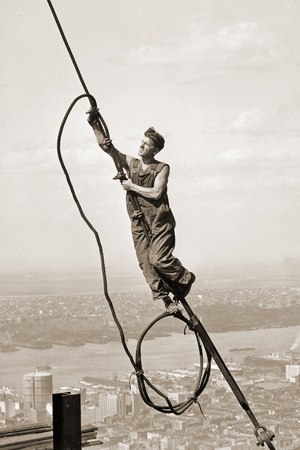 Construction Worker on the Empire State Building
Sadly, these were not the only deaths associated with the building, with 30 people jumping from the building.  Two attempts actually failed, with both a man and a woman landing on floors below and surviving!
The Empty City

At one stage only 25% occupied, the skyscraper was dubbed the "empty city", and the intended function of its mast as a mooring for airships failed due to the powerful upwards air currents caused by skyscrapers. 
The huge banks of elevators needed to reach the top floors also took up so much space, that the intention of creating more office space by constructing upwards was also not really achieved.  In spite of the drawbacks, it was a symbol of power and optimism at a time when there was not much to be cheerful about, and has endured as the most iconic building in New York skyline.


Edward Steichen - The Maypole
In 1932 one of the most famous photographs of this early skyscraper was taken by Edward Steichen.  Entitled the Maypole, he created a sense of movement by the use of double exposure.
It conveys the sheer scale and magnificence of the building, which in the early years of the Depression was an exciting diversion and created a mood of optimism in hard times.  It appeared in Vanity Fair in 1933. 
The Empire State Building is such an important icon its image has been reproduced on all kinds of items.  You can choose from over 1500 different prints or gift items displaying this wonderful building from Etsy here.  
See also my page on the Chrysler Building
Decolish Home
>
Art Deco Architecture
> Empire State Building

Etsy has a surprisingly good range of Art Deco furniture, interior decor, art and prints, 1920s and 1930s fashion, accessories, jewellery and Bakelite.  Click the banner to explore.  
---
---
Join our Facebook Page so you never miss a thing!


Like this Page