Napier Earthquake Creates World's Most Complete
Art Deco Town
---
Some links from this site lead to third parties who pay us a commission if you buy something.  This allows us to keep providing the information on this site free of charge! 
---
The 1931 Napier earthquake destroyed this small town which was then totally rebuilt in the Art Deco style.
Masonic Hotel, Hub of the Art Deco Festival
Art Deco Napier is at the heart of the Hawkes Bay region of the North Island of New Zealand.  It is about 5 hours drive from Auckland, or 320kms from Wellington.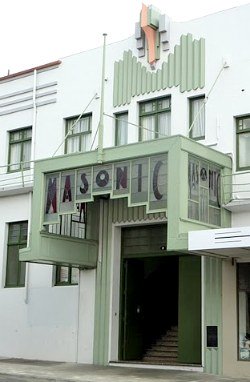 Photo by Fiona Johnson, London
Nowhere else can you find such a concentration of Art Deco buildings all in one place.  Because Napier has so valued its Art Deco heritage, all the buildings are also in fabulous condition. 
Although you can often see similar buildings in many towns and villages around the world, it is rare for so many together to be so well cared for.  In Australia most towns have one or two examples, but most are in a sorry state. 
Napier Architecture

Many of the new buildings were designed by local architect Louis Hay who was greatly influenced by Frank Lloyd Wright.  But the buildings of Napier are unique in world Art Deco architecture as they also show local Maori influences.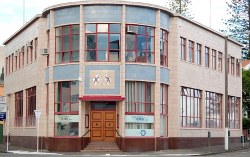 The Art Deco style suited perfectly Napier's situation in the early 1930s.  There wasn't much money around during the Depression and the clean lines and simple geometric decoration was relatively inexpensive.  It was also much safer than the previous ornate styles which meant that decorative elements applied to buildings were likely to fall off during earth tremors.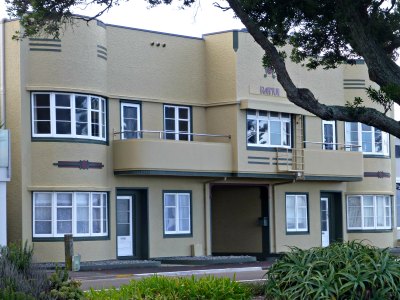 Art Deco Building by the Sea
The people of Napier had an optimism and a forward looking attitude which meant that rather than rebuild the city as it was, they bravely adopted the new styles from the other side of the world which evoked the glamour of the new movies and an exciting new world. 

Every year Napier holds a Festival in February to celebrate its Art Deco heritage.  Find out more about it here.  There is now a Winter Art Deco Weekend in July too. 
I went in 2016 and it was fabulous.  Enjoyed every minute. I can't recommend it highly enough.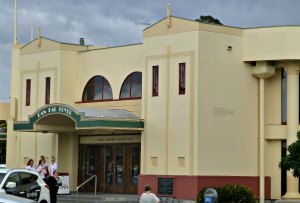 Theatre at Napier, NZ
Decolish Home
>
Art Deco Architecture
> Napier Earthquake

Etsy has a surprisingly good range of Art Deco furniture, interior decor, art and prints, 1920s and 1930s fashion, accessories, jewellery and Bakelite.  Click the banner to explore.  
---
---
Join our Facebook Page so you never miss a thing!


Like this Page