Picasso and his Influence on Art Deco
---
Some links from this site lead to third parties who pay us a commission if you buy something.  This allows us to keep providing the information on this site free of charge! 
---
Nothing looks more Art Deco than Picasso's "Three Musicians" of 1921.  Its black, white and red angular lines could be from any poster for a jazz concert of the period.

The faces of the three musicians, supposed to be the artist himself and his friends the poets Apollinaire and Max Jacobs, are formed of squares and triangles and seem to be wearing bandannas around their eyes which are just holes.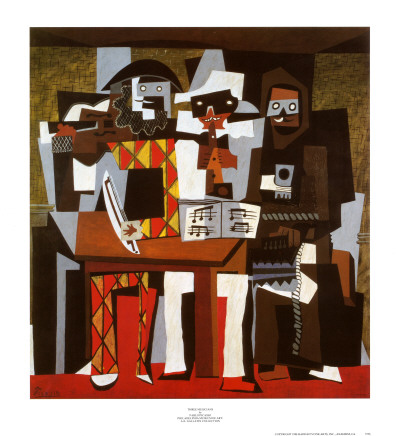 Picasso - Three Musicians 1921
This geometric, flat, two dimensional design became typical of the Art Deco period and could be seen in the posters and advertising prints throughout the 1920s and 30s.  Said to be his last Cubist painting, it was the culmination of a period which started in 1907 when he was working very closely with Georges Braque in Paris. 
Considering he lived for 92 years, the periods of collaboration with Braque and the Cubists were relatively short and he preferred to keep his distance from any particular movement.  He only had one exhibition with the Surrealists. 
And after all, nowadays the name Picasso is so well known that he doesn't need a label to pigeon hole him.  His influence on twentieth century art is so widespread as to be un-quantifiable. 

Read more about Cubism and its effect on Art Deco

The Horse Serigraph

Picasso and his Early Years

Born Pablo Ruiz y Picasso in Malaga, Spain, the son of a painter, Pablo could draw before his could speak and his first word was "Lapiz" or pencil.  At the age of 14 he was taken on as a senior student at the Barcelona School of Fine Arts where his father now worked. 

By the age of 19 Pablo had gravitated to the mecca of all artists - Montmartre, Paris. 
His famous "Blue Period" dates from this time, when he was depressed following the suicide of a close friend.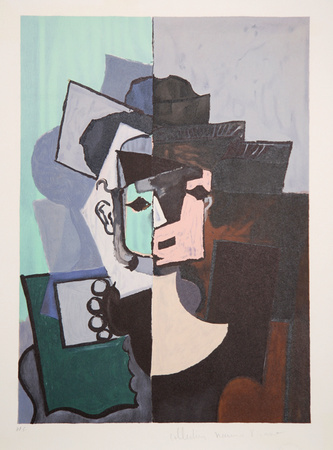 Portrait de Face sur Fond Rose - Rare and Collectable Print
But the love of a beautiful young woman named Fernande Olivier heralded the beginning of a happier time, the "Rose Period"  Pablo and Fernande lived in a dilapidated building nicknamed the "Bateau Lavoir" or Laundry Boat which was a magnet for poet and artist friends.
It was at this time that he became fascinated by the "primitive art" of ancient artifacts from Africa, Latin America and the Pacific Islands and his friendship with Georges Braque began.  In 1907 he completed Les Demoiselles D'Avignon, the painting which many said launched Cubism and which illustrated his love of African masks.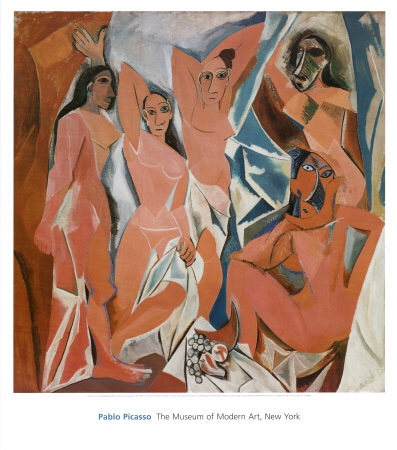 Les Demoiselles D'Avignon 1907
He and Braque were inseparable for the next few years and travelled together to Céret, a tiny village in the Catalan Pyrenees where the pair worked for the summer of 1911 and began introducing snippets of music, newspaper cuttings, lettering and bits of advertising posters into their paintings. 
Lost Love and New Love

During this summer Picasso had produced a series of Cubist paintings of Fernande, but their relationship faltered and in 1912 she left for an Italian painter. 
Pablo in turn lured Marcelle Humbert (nicknamed "Eva" away from her Cubist artist lover Louis Marcoussis.  The new couple spent much of 1912 and 1913 in Barcelona and Céret, during which years Picasso also experimented with sculpture, making "Guitar" out of sheet metal and wire, but returned to Paris where he continued to work with Braque until 1914.  "Eva" died in 1915 of tuberculosis.
 
WWI scattered the Cubists and was effectively the end of the movement. Pablo moved onto other things.
In 1917 he designed the sets and costumes for a Ballet Russes production of "Parade" in Barcelona.  The ballet was described as Surrealist by Apollinaire, which was the first use of the word.

Pablo was to marry a dancer he met at the Ballet Russes, Olga Koklova in 1918 who bore him his first child Paul. 

He enjoyed high society but settled down to a more conservative life with Olga.  Although he exhibited with the Surrealists, he avoided being labelled and later kept his distance. 



Influence on Art Deco Style

His influence on Art Deco style is difficult to quantify, but elements of the Cubist's art - the abstract, the angular, the two dimensional became staples of Art Deco design.  By the 1930s he was the most respected artist of the age, retrospectives of his work being held in Paris, Barcelona and Switzerland.           
My Favourites

I was lucky enough to see the largest exhibition of his works ever seen in Australia in 2012.  Due to the closure of the Musee National de Picasso in Paris for renovation, the collection was on tour around the world.  It contained works from all periods of Picasso's life and gave a useful overview of the development of his style. 
There were some amazing Cubist style paintings. One which I think must have influenced Art Deco designers is the portrait of Dora Maar.  Amazingly glamorous with her dangerous red nails, she is one of his most successful muses. But my absolute favourite was "Women Running on the Beach". 

Etsy has a surprisingly good range of Art Deco furniture, interior decor, art and prints, 1920s and 1930s fashion, accessories, jewellery and Bakelite.  Click the banner to explore.  
---
---
Join our Facebook Page so you never miss a thing!

Decolish Home
>
Art Deco Artists
> Picasso

Like this Page