Roaring 20s give me a Roaring feeling
by Flora
(Portland, Or, USA)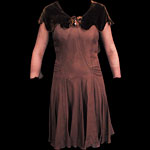 1920s Dress
When I was growing up and saw ladies wearing vintage garb I never knew what I was looking at or how to describe their "look." Now that I am older I know that the ladies I admired were wearing mostly 1920s-40s garb and hairstyles.

In my hunt to recreate some of the looks I have had an easy time getting the hair but the clothes are harder to recreate. Hence my love of vintage clothing especially dresses and cardigans. It is always a feeling of ecstasy to find a great buy in the vintage shopping world.

I have some luck here locally in Oregon but I also have a lot of fun online. My favorite site due to their huge vintage inventory is MonsterVintage.com. But I also really love to check out all the vintage blogs and of course the new sensation Pinterest.

I attached a few pictures of things I am saving up for from Monster Vintage.
Join in and write your own page! It's easy to do. How? Simply click here to return to 1920s Fashion Forum.

Etsy has a surprisingly good range of Art Deco furniture, interior decor, art and prints, 1920s and 1930s fashion, accessories, jewellery and Bakelite.  Click the banner to explore.  
---
---
Join our Facebook Page so you never miss a thing!


Like this Page