Robert and Sonia Delaunay in the Art Deco Era

---
Some links from this site lead to third parties who pay us a commission if you buy something.  This allows us to keep providing the information on this site free of charge! 
---
Both Robert Delaunay and his wife Sonia believed that colour could be used in the same way a composer used notes to create harmonies of colour.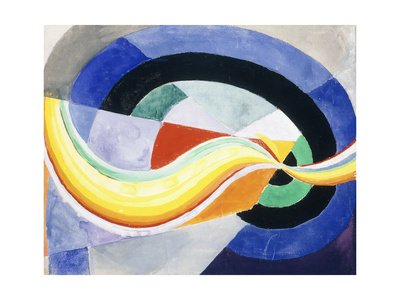 Robert Delaunay - Propeller - Buy Now
Their work was more colourful than other Cubists, such as Georges Braque who tended to use muted combinations of brown or greens in order not to distract from the structural form of the painting.

Robert produced many paintings of Paris, and included such motifs as the motor car and the aeroplane.  His canvases were of intense colour and sweeping lines which later influenced the graphic design of the Art Deco poster and advertising artists.
Robert had first been influenced by the Impressionists, but was introduced to Cubism by Sonia's first husband Wilhelm, among others.  He collaborated with other Cubist artists, Jean Metzinger, Albert Gleize and Fernard Leger, in exhibitions at the Salon d'Automne in 1910 and the Salon des Indépendants in 1911. 
The exhibitions provoked an uproar with their outrageous style, but also an awful lot of publicity, and the Cubist "movement" was recognised as a force in Art.

Sonia Delaunay - Terk

Sonia developed what was called the "Simultanist" style and made a splash at the 1925 Paris Exhibition sitting on her painted motor car, decorated to match the colours of her store. 
Sonia and her Matching Citroen!
Her clothing designs were all the rage, with a severe, practical and modern cut which moved away from the opulence of Bakst and Erte's exotic designs for the Ballet Russes, which had influenced fashion in the 1910s and early 1920s.


Sonia Delaunay was born Sofia Ilinitchna Stern into an impoverished Jewish family in the Ukraine in 1885. 
She was fortunate to be adopted by a rich uncle (Henri Terk) who recognised her talent and sent her first to Germany and then Paris to study art. 
After a short marriage of convenience to Paris art dealer, Wilhelm Uhde, which allowed her to remain in Paris, she fell in love with the Cubist painter Delaunay whom she married in 1910.


Sonia Supports Robert Delaunay and Their Son

Sonia also worked as an interior and theatre designer in order to support her husband and young son. 
Robert had had no formal art training, but had been apprenticed as a theatre set painter.  This was typical of the artistic melange of the Art Deco years when many artists and fashion designers were involved in the theatre, especially for the exotic and influential Ballet Russes.
Sonia also designed book covers and fabrics. She opened her own fabric shop "Atelier Simultané" which was later to exhibit at the 1925 Paris exhibition alongside such famous fashion designers as Poiret and Lanvin. 
In 1921 she had collaborated with the Dadaist artist Tristan Tzara on range of womens' clothes.  She was influenced by the Cubist movement, but had also studied the theories of a 19th century colour chemist who claimed that our perception of a colour is changed by the colour next to it.  Her art, her fabrics and her clothes were bright with clashing colours and geometric patterns. 
Sonia Delaunay - Tango Bal - Buy Now
After Robert's untimely death in 1941 Sonia Delaunay began to paint again and gained recognition as the first woman to be exhibited at the Louvre in her own lifetime.
Check out more designs by this talented pair from Etsy:
Decolish Home
>
Art Deco Artists
> Robert and Sonia Delaunay

Etsy has a surprisingly good range of Art Deco furniture, interior decor, art and prints, 1920s and 1930s fashion, accessories, jewellery and Bakelite.  Click the banner to explore.  
---
---
Join our Facebook Page so you never miss a thing!


Like this Page